Buy your copy of The Long Ride today
he Long Ride is a vivid, sweeping and passionate story about a modern day adventure that puts you firmly in the saddle, on the back of a beautiful Arabian horse, and sets you upon a record-setting ride through small towns and big cities across America.
It is the story of a team with a very specific purpose–a team of people and their Arabian horses on a coast-to-coast journey to set a record and draw attention to the destruction of the world's rainforests. In this second book about his horseback ride, Spataro demonstrates the wit, eloquence and insight that inspired a legion of people to become involved in the ride and interested in the pressing rainforest issue.
With hundreds of photos from Spataro's collection and historic sources, The Long Ride is a beautiful chronology of a place in time when three horses and a team of people were doing the "right thing" against very long odds; their perseverance is even more inspiring today, twenty years later.
Buy your copy of The Long Ride from Amazon or ipgbook.com today.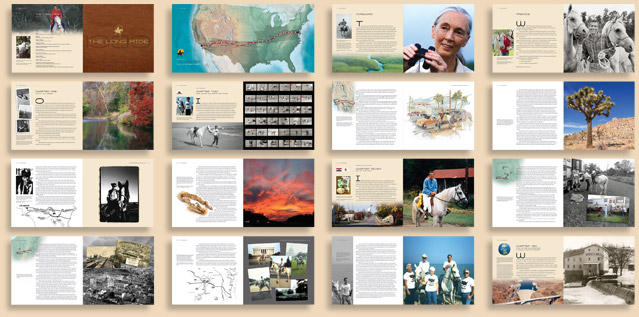 Sample interior spreads for The Long Ride | ISBN 978-0-9835019-0-9 | Hardcover | 10" x 9.625" | 216 pages
Over 200 photographs, maps and illustrations



A portion of the proceeds from the sale of the book will be used to support RAN's efforts to promote sustainability and environmental restoration efforts.
The Long Ride
has been printed on Forest Stewardship Council approved papers. Visit FSC at
www.fsc.org
to learn more about this organization established to promote the responsible management of the world's forests.